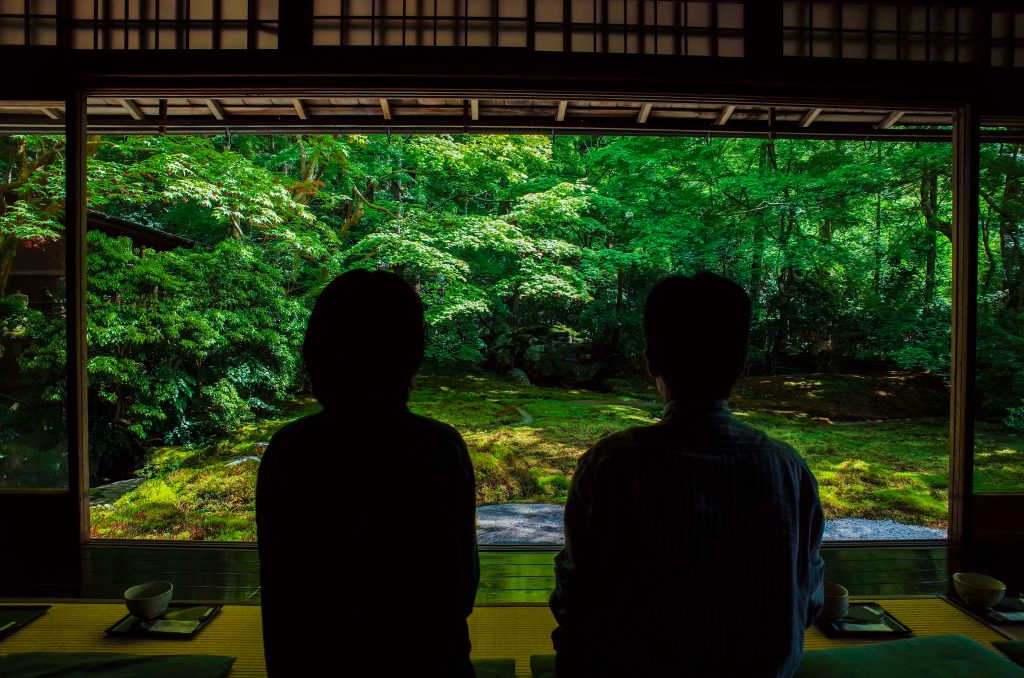 Rurikou-in
Rurikou-in, which is located on Yaseoohara quietly, is well known for a superb view spot in Kyoto.
When we look at Rurinoniwa from second floor, a scene of the garden and tables that reflected
unaccountable beautiful green maple leaves in the garden is much more beautiful than we imagined,
it deserves a Japanese common phrase " too wonderful to forget breathing !"
Almost all visitors take pictures in the crowded room. So if you take pictures, you do not lose
chances to take wonderful pictures, actually in a split second.
The best time to visit here is opening of the gate early in the morning.
Visitors are relatively fewer in early in the morning, It is easy to enter.
After viewing superb spot, you had better make a sutra-copying! I am sure that you must be relaxed naturally.
But Rurikou-in is open for public for limited period only.
We can look at the superb view of green maple leaves only now.
Pictures had better be taken because they must be outstanding for INSTAGRAM.
On your way back to Yase station, there is a restaurant called "Hieino Sato AZAMI". If you have meals,
you can relax with sound of flowing a clear river and hositality by the shopkeepers.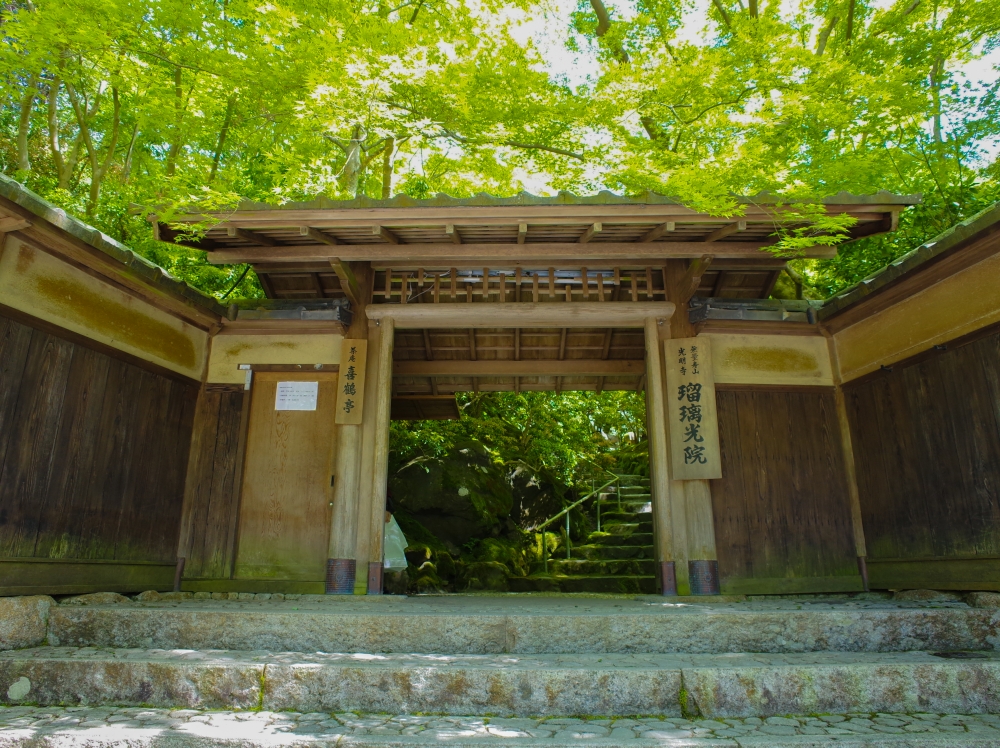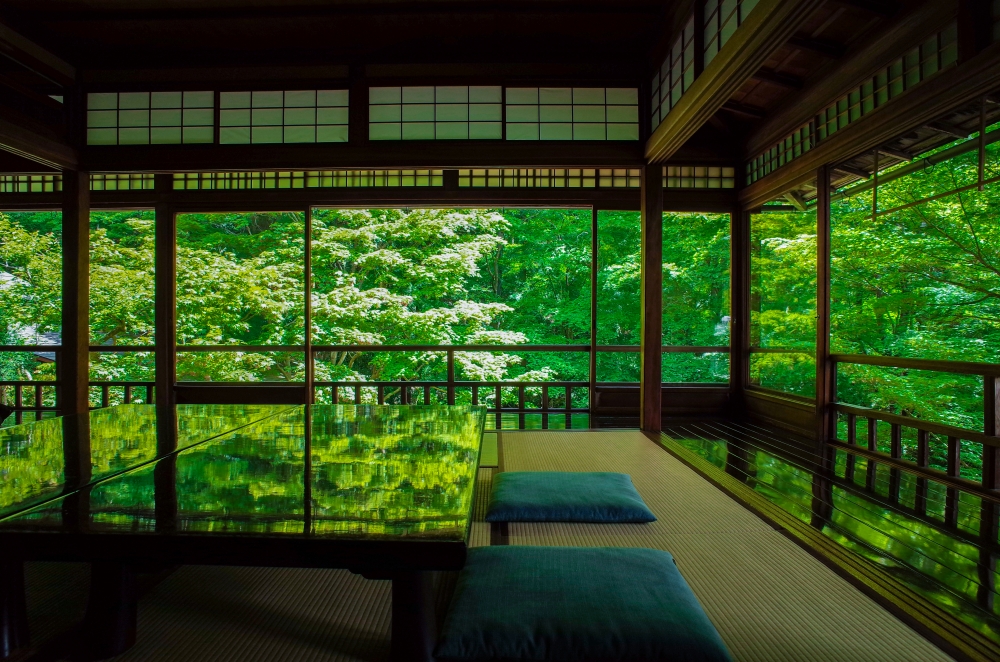 Kibune-jinja
In Kibune, so called retreat in Kyoto, you can find fresh green leaves everywhere.
You walk while feeling cool air of minus ION, you will find impressive colorful landscape that is composites
red garden lanterns, stone steps and green maple leaves.
Kibune-jinja is popular not only for a power spot but also gave an answer to prayer for marriage.
After praying to Kibune-jinja, you had better do "Mizuuranai".
"Mizuuranai" is a kind of fortune. At first a paper is floated on the water and the future happiness
comes out on the paper gradually. A lot of people think this fortune is reliable and recommended especially.
It is a little bit cold as they say "retreat in Kyoto", so you had better have one more clothe
If you become hungry, it is elegant to eat in "KAWADOKO restaurant".
Kurama is near this area, you can enjoy walking there in a day.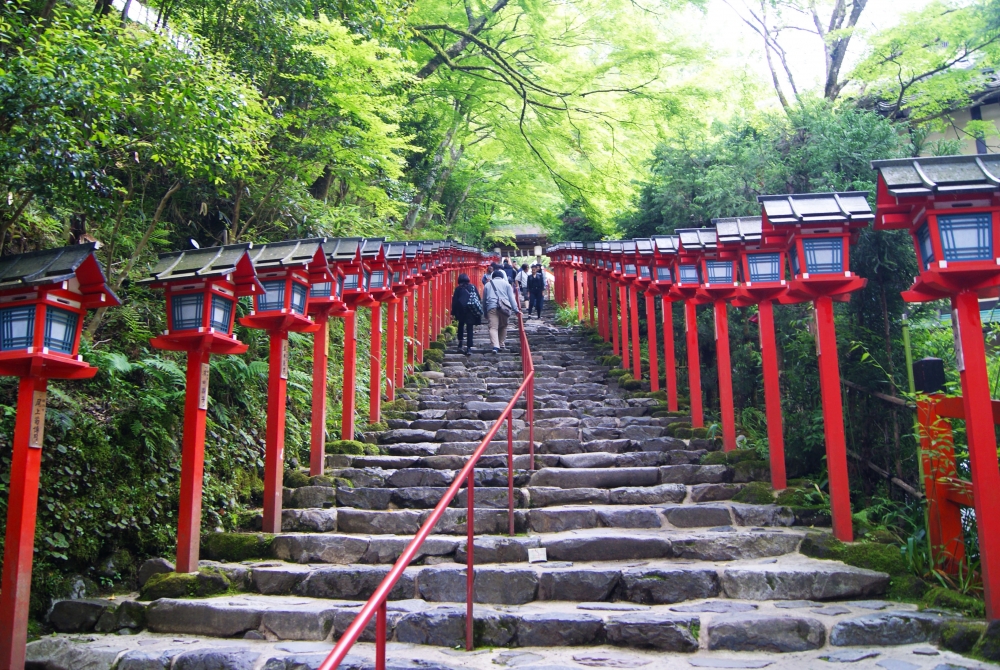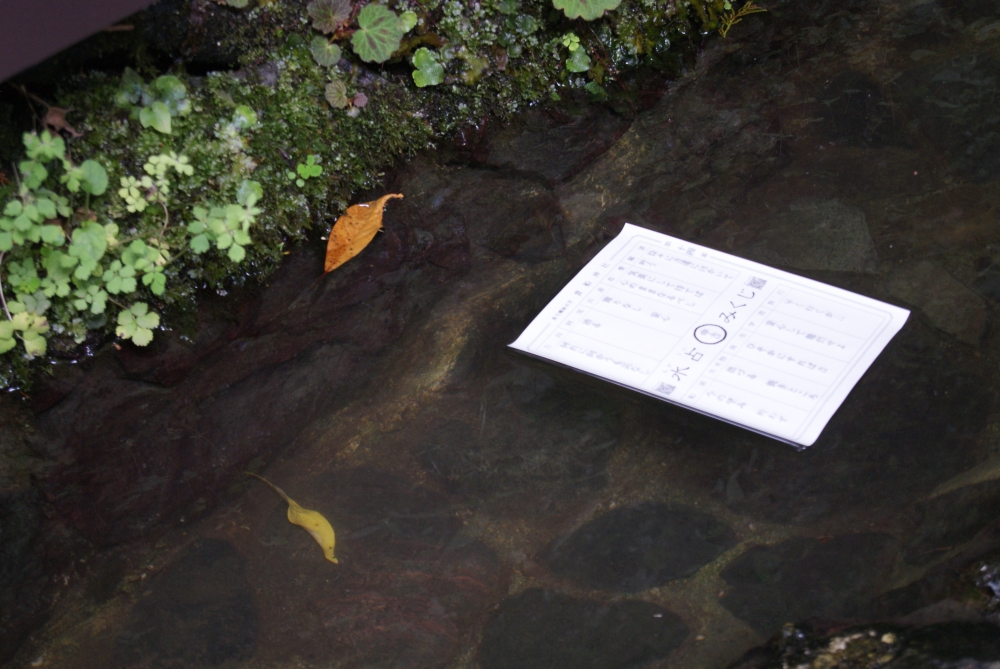 Toufuku-ji
There are a lot of spots that are famous for green maple leaves and fresh green leaves in Kyoto. But Tofuku-ji,
which is covered with green leaves, is a little more special from others.
Viewing Keikokoku Senoju from "Tsutenkyo-Bridge" is wonderful, but especially viewing Tsutenkyo-Bridge and
Keikoku is obviously best landscape.
In this season, no regulation on taking pictures different from autumn. You can occupy all the landscape
for taking pictures as you like.
If you like to take pictures, I really recommend to visit this season.
Recently, except for green maple leaves, a garden, produced by a gardener Mirei Shjgemori, mixed structure originated from Kamakura Era
and modern art often refer in SNS. Checkered garden made of moss and stones, moss garden like the five mountains
must be also good for INSTAGRAM.。
And every part of Tofuku-ji is good landscape to take pictures. But you do not forget to sit down on a narrow
wooden passageway, leave your camera and enjoy attractive gardens by your own eyes.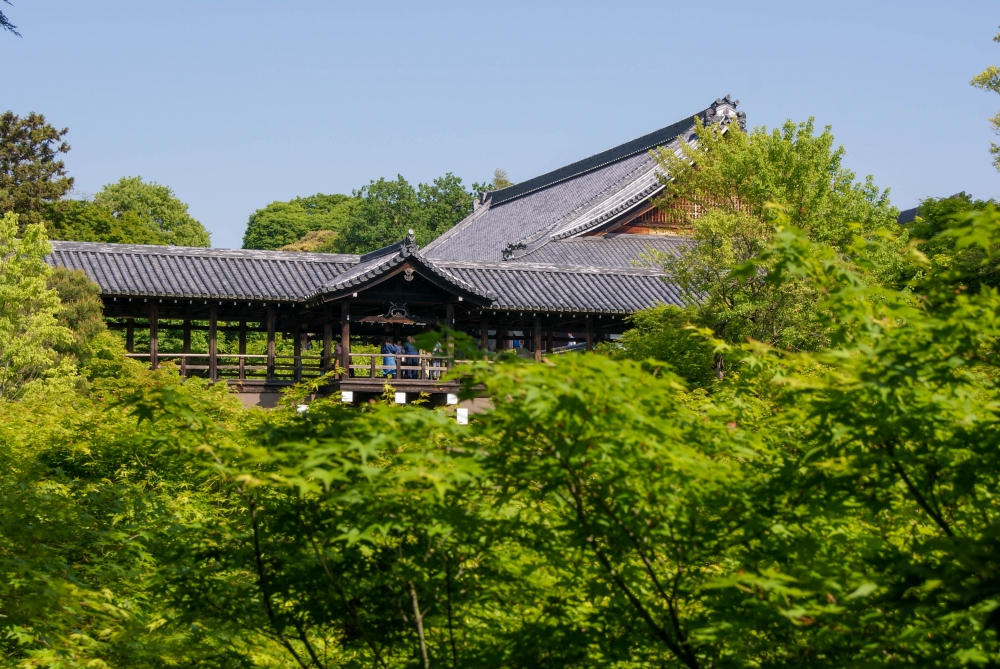 Imamiya-Jinja
Otama was born as a daughter of a greengrocery store in Nishijin. After she worked for women's chamber
and become Iemitsu's concubine. She became shogun
And Keishouin was eagerly to reconstruct temple sand shrines
in Kyoto where was was born, she had special eagerness to reconstruct Imamiya-jinja
That is the reason why Imamiya-jinja is called "Tamanoikoshi Jinja"
While we can get an strange answer for prayers, we can spend slow and quiet time in the room.
Official autograph for prayer is written in opened 3-page spread.
"Aburimochi" is sold by two opposed old stores in front approach to the temple.
You can relax to eat them in a room. And eating them with tea in front of the store
is like an everyday life in Edo era
This shrine is often used for filming costume dramas. An excellent spot, which are not so famous,
will make a very attractive story.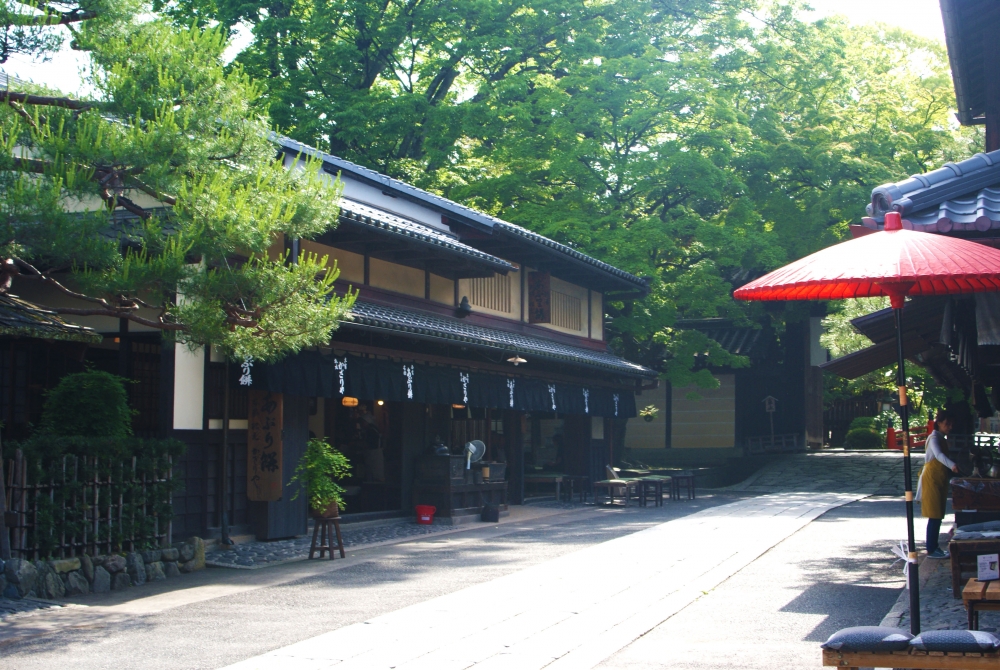 Shimogamo-jinja
Shimogamo-jinja is 12 minutess walk along Kamogawa river from Demachiyanagi station.
If you find a big Torii, that is Shimogamo-jinja.
Tadasunomori is 124 thousands square meter. There is a small river in it and
when we walk inside of Tadasunomori ,we feel like as if we werer in the world of Jiburi.
We sometimes see a coach. We can get on by paying fee and enjoy running in Tadasunomori
The main hall has 12 prayer's place that separated by 12 animal signs of Chinese zodiac.
We have to select our own place by the zodiac
Kawai-jinja is related shrine and whose prayer's benefit of answer is beauty.
"KAGAMIEMA" is famous. If you make up the ema by your own makeup tools, you may be a beautiful. If you use pen, it is OK. I recommend to try it.
After you went Shimogamo-jinja, you drop in to Kamogawa Delta. It must be relaxed time, eating lunchbox or bread.
But be careful of kites ! They will attack you food when you are off your guard !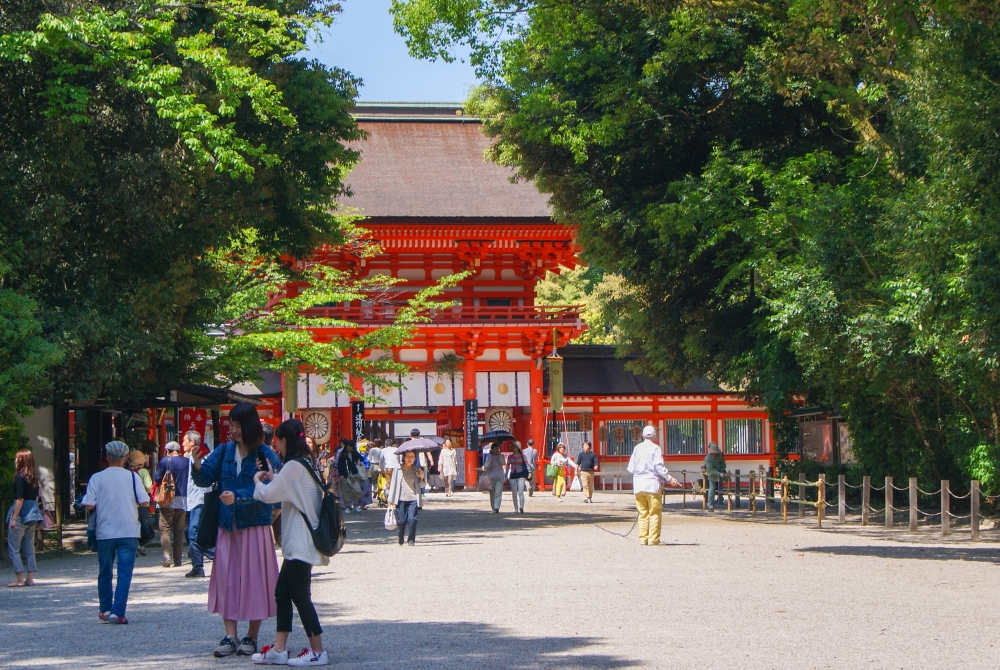 Do you interested in it ?
This time I introduced sppots that I recomended you to take good pictures in early summer
You can look arround every spot haif of a day.
There are a lot of attractive spots in Kyoto. You can enjoy finding new sopts noea your house.
We also enjoy this way. Aomomiji is still beautiful for a while, so you had better go there with camera.
My most recomended activity is not taking pictures but vieing them relaxed and slowly.
but viewing green maple leaves, and
(translation : Michy)
関連する動画
おすすめ動画記事